Ready? Set! Haiya!!!
Ready? Set! Heiya!!! is a rhythm based kung fu fighting game that focuses on immersing the player into cinematic fights with its unique life size training dummy controller.
I am the hardware engineer for this project. I have focused primarily on designing and building our alternative control as well as programming the interface between the Arduinos used and Unity as well as some UI elements for the prototype.
Here is a gameplay video of our original pitch for the prototype. As you can see in the video the game is played by striking some switches on the arms of our controller to simulate a strike done on a training dummy.

Here is a picture of the new controller (work in progress) :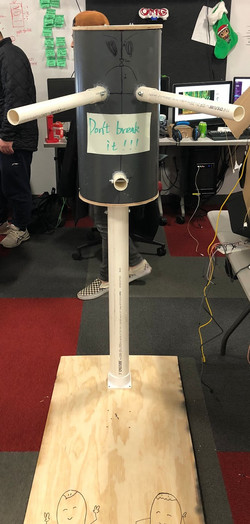 The controller has a min height of 5ft and a max height of 6ft. It will use home made force sensors instead of switches as input and will be wrapped in foam to provide a soft striking surface. I will post new images once the foam and sensors have been attached to the pvc pipe skeleton.
Please check out our official webpage https://readysethaiya.com/
Install instructions
Download zip file
Unzip file
Run .exe
The game can now be played with keyboard.
Press R to reload fight.